Selling your property
We work with you to plan the best sales strategy for your property, based on your individual needs and informed by our in-depth understanding of your local area.
Full service
We manage every aspect of your sale, from initial valuation, right through to completion, and every step in between. All for one, simple fee. Our dedicated sales progression team ensures your sale stays on track, even if things get tricky.
No tie in
Unlike many other agents, we won't lock you into a contract. Nor will we ask you for any money until we've sold your property. This means the pressure is on us to be proactive and get serious buyers through your door.
Connected team
Experienced and attentive agents in our four, local offices work closely together to ensure your property is seen by our large network of registered buyers. Our team has some of the best customer reviews in the area.
Brilliant results
We value your property accurately and market it proactively, to create maximum interest and secure you the best price. We only ever have a manageable number of properties on our books, so your sale gets the full attention it deserves.
Effective marketing
Standout marketing is essential for attracting potential buyers and ultimately getting you the highest possible price for your property. We target the right buyers across the most effective channels and always use first-class professional photos and high-quality floor plans to show your property at its very best.
As nearly all property searches begin online, we list your property on all the major portals so it reaches the widest audience possible.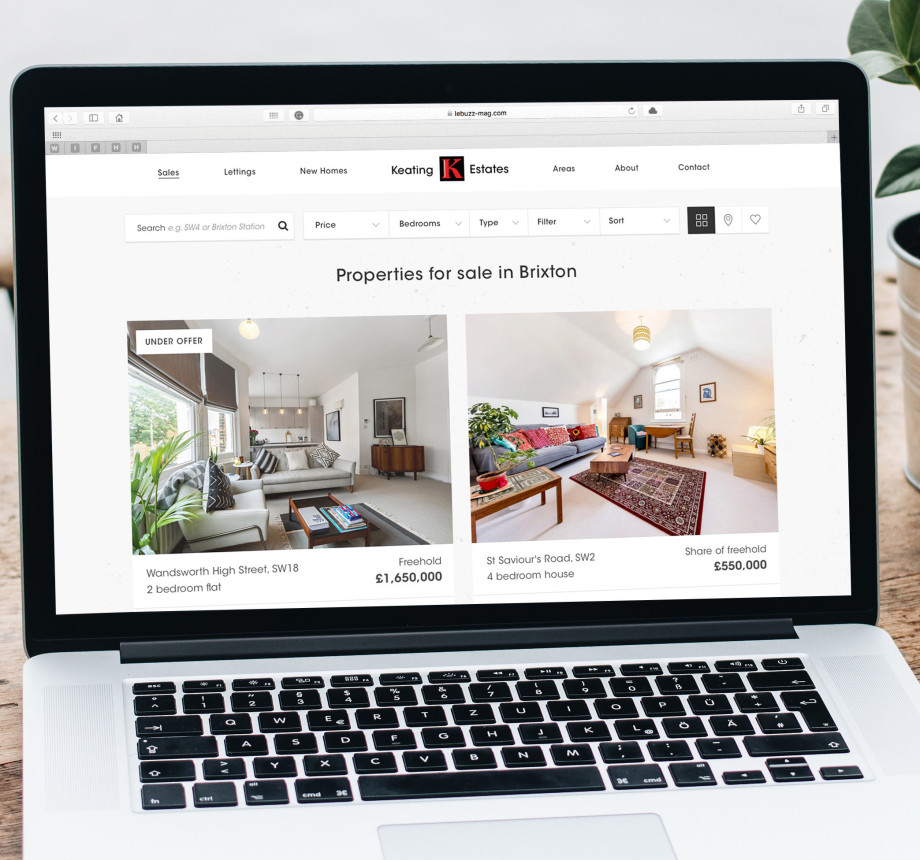 Property valuation
The sales process starts with a valuation of your property. We arrange a time convenient to you to come and visit you and your property. We'll give you an accurate valuation, based on almost two decades of experience in the area and the latest market data. It's free and there's no obligation.
We'll also discuss the various sales strategies we could use to achieve your goals. There is no 'one size fits all' when it comes to selling a property, so our approach will be tailored to your personal circumstances.
Get a valuation
Choosing an estate agent and solicitor
When choosing an estate agent, try not to be swayed by the cheapest fee or highest valuation. We recommend you also consider local knowledge and market presence, reviews and recommendations, contract terms and how many of their sales reach completion. Most importantly, are they open and honest and do you trust them to act in your best interest?
It's a good idea to appoint a property or conveyancing solicitor as soon as you decide to sell, so that all legal paperwork can be dealt with in good time. Here are a couple we have come to trust over the years:
Marketing your property
Once instructed, we quickly get to work selling your property. Professional photographs, floor plan, brochure and sales board are all included as standard, along with comprehensive listings on our website and all the major property portals. We'll also use any other marketing channels we think will help your sale, including social media, lifestyle magazines and London newspapers.
We don't wait for buyers to come to us. Instead, we're in immediate contact with our database of qualified buyers and all four of our offices work together to generate maximum interest in your property, while it's fresh on the market.
Get started
Viewings
Armed with everything they need to know, our smart, insightful negotiators showcase your property to prospective buyers. They know our core areas inside out and most live here too, which means they know exactly how to sell the local area and your type of property. Expect regular, constructive feedback and a rolling review of your sales strategy.
Viewings are arranged to suit both you and the buyer and we never use part-time or weekend staff. Remember to declutter and present your property in a way that allows potential buyers to imagine themselves living there.
Get started
Negotiating offers
We'll inform you as soon as an offer is made on your property and undertake all negotiations on your behalf. You may have multiple offers, in which case we'll guide you through the merits and drawbacks of each. It's not about accepting the first offer, but the right one, so it's important to take the position of the buyer into consideration, as well as the offer itself.
Once you've accepted an offer, a Memorandum of Sale is drawn up. However, the agreement is not legally binding until contracts have been exchanged, so either party can still pull out at any time.
Get started
Sales progression
It can be a rocky road to completion, so it really pays to have a capable estate agent working on your behalf. During this time, the buyer's surveyor will survey the property and the final mortgage may need to be agreed. The solicitors will carry out searches and ensure all leases and other legal aspects of the sale are in order. If any problems are uncovered at any point, renegotiation may be required.
A highly experienced member of our sales progression team will keep your sale on track throughout this process. They'll be in regular contact with all parties and navigate any pitfalls, giving you the best chance of receiving the maximum price for your property.
Exchange and completion
When all parties are in agreement, contracts will be exchanged, after which the sale is legally binding and neither you nor the buyer can pull out. The deposit (usually 10% of the sale price) will be transferred to your solicitor, who will then hold it until the completion of the sale. The buyer's solicitor will arrange for the deeds to be transferred to the buyer by the Land Registry.
On completion day, the remaining funds (usually 90% of the sale price) will be transferred and the buyer will take ownership. Congratulations, you have sold your property! Time to crack open the champagne.
Get started
What our clients think
"Sebastian helped us with selling our flat in Herne Hill and buying our house in West Norwood. He did a great job - he always kept us up to date, communicated things clearly and generally made what can be a painful process a lot easier. We would recommend Sebastian to anyone looking to buy or sell."
Anna Rose Ward - 10 Jan 2022
"Out of all agents we have been dealing with to find a property, Gemma has been the most professional. She understood our needs and helped us find the right property. She would keep in touch with us regularly, would always have the property brochure ready for each viewing, and would always provide..."
Edouard Le Leslé - 10 Dec 2021
"I was only upset that I hadn't found Keating Estates sooner! Gemma was a god-send after a rather varied and frustrating property search YTD. She quickly understood exactly what I was looking for and the type of features of a property that I'd be really interested in to the point that I f..."
Reena Tailor - 16 Nov 2021
"Gemma was so helpful throughout and very attentive. I was searching for a place by myself so needed the help and couldnt have hoped for a better guide."
Richard Scott - 1 Nov 2021
"Gemma was professional throughout the buying process and would onyl show me properties which matched my requirements. She responded quickly to all emails and was knowledgable on the area. All information was relayed clearly and I was made to feel comfortable throughout the process."
Ricky Uppal - 26 Oct 2021
"Selling up whilst in lockdown and working against a tight Stamp Duty holiday deadline might have easily morphed into a ludicrously stressful affair, had it not been for the remarkable professionalism of Grace Rose and her equally competent, approachable and proactive team: Jade Bower, Camilla Akerhu..."
Guillaume - 3 Oct 2021
"Gemma has been an incredibly helpful, personable and all round brilliant agent to deal with. We're really grateful to have had our experience as first time buyers with her!"
Calam Lynch - 21 Sep 2021
"Gemma is amazing! She gets to know you and she is really trying to find the right property for you. She doesn't give up if something goes wrong and keep looking till she finds the one. It was great to finally find our first family house with her."
Michela - 23 Aug 2021
"We had a positive experience with Gemma when we were selling our flat. She is personable, extremely organised and was very flexible with viewings which was very helpful as we have a toddler. Even when we sold our flat and Gemma passed us over to a new contact at Keatings, she kept in regular contact..."
Krystina Rees - 17 Aug 2021
Contact
Sound like your kind of people? Then we'd love to help with your sale.